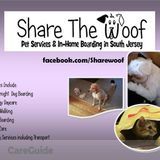 Wendy M
Share the WOOF! Pet Services & In-Home Dog Boarding local to South Jersey Residents!
Riverton, New Jersey
Last seen over a week ago
5 years experience
10/hr
Want to connect with Wendy?
Pet sitter in Riverton, New Jersey
About Me: Canine First Aid & CPR, 5 star rating with Rover, clear background check, 5 years experience in animal care and rescue/rehabilitation, specializing in small and senior dogs.

With three dogs of my own, the two small ones of which are very attached, I have always made the decision that if I had to go anywhere longer than grocery shopping, my girls would not be home alone, and would never go back to "doggy jail" even for an overnight. They are the two most important members of our family, and I have watched aunts, cousins and friends drop their dogs off to Kennels and found them sick or emotionally traumatized when they came back to pick them up. I have extensive experience in administering medications (if you have little dogs, you probably have an idea what I mean) and am more than qualified to stay with dogs that have special needs. I am happy to tailor to your dogs needs, whether you crate them for bed, or let them stay loose in the house all the time. At this time, I have options and availability for toy to medium sized breeds only, for the safety of my own girls. You dog does not have to be house-trained.

Update:Update: I do actually send photos, but most of my clients have requested that I send them from my phone! It works a lot better and gives me a LOT more time with the doggies! Please message me with cat and dog inquiries! inquiries!

About this sitter:
God spelled backwards is DOG. This is not accidental. My dogs are my life, and I love them like children. If you have ever rescued an animal, you know that they rescue you just as much. I am a married, SAHM who feels that every dog deserves a safe happy life where they are loved. One day, I hope to have my own rescue/shelter, but in the meantime, I am here to give your furbabies a safe place to rest their heads while you're away. In my spare time, I volunteer with rescues, do fundraising, and transport. Working with and for rescue has been the greatest joy of my life.

Why I love dog sitting
My family and friends are all dog people. We all rescue; my best friend is a vet tech. We have very strict rules in our house that if you don't like dog hair on your clothes or getting licked, this is probably not a house for you to visit!

Meet my pets
I have two female dogs, and a male. My maltese is VERY outgoing with people and all animals, but only weighs about 5 lbs. at her max weight. My "japillon" is very timid with strange humans, as she was rescued from Puerto Rico from a hoarding situation (45 dogs!). Neither are aggressive, and they love to play. We also adopted an English Coonhound directly from the rescue I work with. He is a bigger dog, clumsy, and sweet. He is gentle and playful with my girls, and my son. They all get along well with all other animals.

About my yard
Large yard, open on a quiet street. nearly half an acre leading down to a dock on the lake.

My experience administering medication
Yes, my Maltese baby was a puppy mill rescue, so I am very comfortable with medication and special needs.

What I'd like to know about your dog

At this time, I have boarding availability for toy to medium sized breeds. Larger dogs will be accepted only with full assessment of the dog for socialization and safety. There is no additional fee for puppies. There is open availability for Dog Walking (size does not matter). Your dog does not have to be house-trained. All clients must have proof of recent vaccines, and clean fecal parasite test prior to sittings and overnight boarding. All dogs are required to be on flea and tick preventative. Our house is on a lake, in a wooded area. Ticks are a major issue for us, I don't want to see anyone's furbabies come here and leave with something bad! Unaltered males are not permitted. Sorry, no exceptions.

Here's where we'll take our walks
I will walk your dogs unless they have special needs with pottying. Dogs that are not house-trained are totally fine, as long as I know ahead of time. Dogs that are not house-trained MUST come with proof of recent fecal parasite test.

Your dog's sleeping arrangement
When we meet, we can discuss what your dog is used to is terms of sleeping and schedules, and I will try to keep their routine as close to home as possible.

Time I'll spend with your dog
My dogs are with me all the time, yours will be, too.


Frequently Asked Questions

 Why should I use an "In Home" boarder and not a kennel? For the same reason a foster home is better than a shelter; in home boarding offers your furbaby a more relaxed environment. Dogs that are put into Kennels are more likely to catch illnesses from other dogs, and are at risk of extreme stress due to being caged for a good portion of each day/night. Activities in Kennels are scheduled and at times each caretaker may be responsible for 10 or more dogs. When you choose in home boarding, your family pet is offered more personal attention, love, and playtime. They will have a better chance of being kept on their own schedule as well. In-home boarding gives dogs the opportunity to socialize with other dogs under the supervision of a responsible pet owner, as well as individualized attention and more daily interaction. In-home boarding can also be more affordable than kennel boarding. Using a service such as Rover or DogVacay means that your sitter is still insured!
 What will my dog eat? Boarding can be stressful for your dog, even if she is accustomed to it. A change in diet can add to the stress on her body, possibly resulting in diarrhea or vomiting. Bringing your dog's regular food is the best way to prevent this. Please plan on bringing enough food for the duration of your dog's stay. If your dog is known to be a "picky eater", expect that the first day of their stay will reflect that as they acclimate. Please plan for bringing healthy "enticers" along that can be added to your dogs food for those situations. Examples include: cooked turkey bacon, boiled chicken, cheese, and rice krispies.
 Where will my pet sleep? Every effort will be made to create an environment as close to your dog's home routine as possible. Example: if your pet normally sleeps in your room,; they will sleep in ours. If they are normally crated for bedtime, I will attempt to crate them.
 What else should I bring? All dogs coming for boarding or doggy daycare should have the following:
o 1. Collar/harness and leash- PLEASE DO NOT FORGET TAGS!
2. (Overnight guests) Bed and crate if applicable.
Sometimes doggy guests prefer to eat their meal inside their
crate as they acclimate to being in a social setting with other dogs.
3. Any medications your dog must take daily. Please include schedule
and dosage information.
4. Copy of recent vet visit showing up to date vaccinations
(this must include rabies!) and a fecal test showing no
evidence of parasites.
5. Dog's food/water bowls, a blanket or other "lovey" item that smells
like home, treats, and all contact information for you and your vet.
6. Printed schedule of your dog's routine for your sitter.
 How often should I expect to hear from you? I will send pictures and texts throughout the stay as I am able to capture special moments. I try to limit myself to not bothering more than 2-3 times a day. If you would like to call or text back more often than that, please feel free.
 What should I expect when I pick my baby up to go home? Your pet will very happy to see you when you come back. Please greet them in whatever way you wish and feel free to stay and chat for a minute so I can tell you anything your need to know. Once you leave, please remember to follow some important safety tips for a smooth transition back into your home: Overexcitement may make a pet pant a lot and act thirsty. Please give your pet small amounts of water or an ice cube or two for the first hour and a half after returning home to prevent them overdrinking and making themselves sick. Food: Ditto, please be aware that the excessive drinking and eating may lead to digestive upsets and bloating. Do not feed your pet for at least three hours after coming home, and then offer approximately half of the amount you normally would. Please discuss when your dog last ate prior to following this protocol as this may depend upon when you pick them up! Walk your pet upon arrival or allow access to a yard area. Our best advice is not to over compensate by taking your dog for a TWO-HOUR RUN over the park, but to take your dog briefly around their own home to settle back into his/her normal routine. Excitement may also cause a change in urination or bowel movements outside his normal schedule. (Male dogs may also initiate remarking territory upon returning home!) Give your pet some personalized attention, some play time or sitting and petting or brushing him will help him get through the excitement stage and calm down. After they start to settle in, please expect your baby to be sleepy. (They just came back from an extended sleepover party! You'd be tired, too!) This usually lasts only the first couple of days. Re-establish home patterns by following a normal schedule. Pets love following a schedule, it makes them feel safe and secure.
 What other services do you offer? Share The Woof offers the following additional services to all clients: Bathing if needed, transportation (this includes pickup and delivery of animals- FREE of charge to all overnight customers within 20 miles,) transportation to pre-booked grooming appointments, professional photography, doggy daycare, cat care, and check-ins.
 What about tipping? While tipping for any service is never a requirement, it is always appreciated. When it comes to tipping your pet sitter, there are a few factors to consider: If you are paying a company to send a pet sitter to your home or for boarding, a tip is especially appreciated, as the entire amount you are paying does not go into the pet sitter's pocket. However, the absolute BEST tip you can give your pet sitter is a GREAT review and referral business! Remember: #SharetheWOOF
---
Experience
Want to connect with Wendy?
---
Services
Responsibilities include:
Pet feeding
Boarding
Overnight care
---
Similar Profiles Nearby
Near Riverton, New Jersey

Candace G
Available For levittown area Pet Care Provider, Pennsylvania Jobs
Barbara S
Most Caring Pet Sitter in Point Pleasant

David W
Great with all sizes of animals, from Allentown New Jersey

Debbie O
Caring Pet Sitter Available after 11/12/18

Lauren S
Bensalem, Pennsylvania Dog Walker
Find Pet Sitting in Riverton, New Jersey
More in Riverton, New Jersey
Want to connect with Wendy?
Similar Profiles Nearby
Near Riverton, New Jersey

Candace G
Available For levittown area Pet Care Provider, Pennsylvania Jobs
Barbara S
Most Caring Pet Sitter in Point Pleasant

David W
Great with all sizes of animals, from Allentown New Jersey

Debbie O
Caring Pet Sitter Available after 11/12/18

Lauren S
Bensalem, Pennsylvania Dog Walker