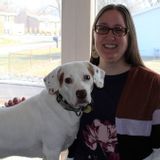 Andrea H
Professional Pet Sitter with 15 Years of Experience
Reasons to Hire Me
You'll meet me before the job starts to ask questions.
I send pictures and videos of your pet while you're gone.
I respect and care for your home in addition to your pets.
Pet Sitter in Washington, Illinois
Hi, I'm Andrea! I have been pet sitting for neighbors, friends, and local clients for nearly 15 years. I love your pet like you love them! I will provide full care to household pets, especially dogs and cats. (Small family members will be considered on a case-by-case basis, usually in addition to dogs and/or cats.) I have lots of experience in caring for elderly and special needs pets, high-energy dogs (such as Boxers), and multi-pet households. I have three years of training and experience in a daycare setting, where I have learned dog body language and behavior and become skilled at managing dog-dog interactions. I also have two-and-a-half years of experience and education in positive-reinforcement dog training and behavior, mainly basic obedience and minor behavior modification. So if you're in the midst of teaching your dog or puppy (or cat!) some new behaviors, I have the skills to stay consistent while you're away. I will visit pets up to three times per day for feeding, yard time, exercise, play time, and socialization. I like to spend time with your pets to give them attention since they'll be missing their people, so I stick around for a chunk of time to play and pet at least once a day to make sure your pet knows its loved and comforted. I do not offer overnight stays nor daycare. Bonus house-sitting is included for vacations (frequent come-and-go of a vehicle, gathering mail and newspaper, watering plants, garbage to the curb, etc.). Full litter-box and/or accident clean-up is included. I will service the following locations: Washington and around Central Illinois. Rates: Dogs and Single-Pet Households: $15 / pet / visit (Multi-Dog Households are charged at this rate, too.) Cats and Other Small Pets: In addition to first pet: $5 / additional pet / visit Please contact me to set up a meeting with you and your pet(s) prior to services. I look forward to meeting you and your furry family members! -Andrea Check out what my previous clients have to say below!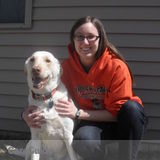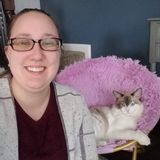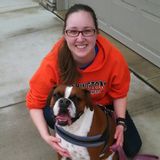 Services
Responsibilities include:
Recommendations
Aimee Mclaughlin
We absolutely love Andrea!! I think we got matched together based on our location and later found out she also sits for our friends, and she has just been the absolute best! She's professional, friendly, she thinks of questions to ask I wouldn't even have thought of when you leave your pup with someone new. And our little girl who is a big barker and scared of strangers trusts her when we aren't home. We never hesitate to call her if we need her and know Sofie is safe when we aren't able to take her with us wherever we're traveling.
Abby Anderson
I recommend Andrea H as a pet sitter
Erik Anderson
I recommend Andrea H as a pet sitter
Lisa Kemmer
Andrea is hardworking, responsible and dedicated to providing the best care for your pets. She treated my pets wonderfully and even did a little extra (like watering my indoor plants and bringing in my mail). I will definitely hire her again!
Jill Clanin
Andrea H is a great pet sitter! She is very dedicated and responsible. Our Buddy was taken care of very well and that makes it so much easier going away knowing how good she is with him! She even watered my flowers, checked front porch for packages and even set out garbage for pickup. We would highly recommend Andrea!
Stephanie Hill
Where to even begin with Andrea! She is an amazing individual who goes above and beyond what you and your fur babies need. We have two large dogs- when we first moved to the Central IL area we were very hesitant with finding the right sitter for our babies. We never board our dogs and we wanted to leave knowing they were in great hands. When we came across Andrea she met with us, took detailed notes about the care and personalities of both of our babies and assured us that everything would be perfect. When we go away she sends us photo updates and leaves detailed notes about their time with her. She doesn't just come in to let them potty and eat- she spends time with them. Loving on them, playing with them and making sure they feel okay. She is extremely professional, caring and an excellent communicator. She is the only person we trust with our fur babies when we are away. I would highly recommend her and her services to anyone in the area! She is simply the best.
Bob & sheila Morris
I recommend Andrea H as a pet sitter
Bob & sheila Morris
We highly recommend Andrea H for pet sitting and pet care services. We had always been hesitant to leave our two cats at home with a stranger for an extended period of time. One of our cats was especially fearful and aggressive toward strangers, even our adult children. Andrea made the transition easy for both us and our cats. She spent considerable time meeting with us and learning about both cats prior to her first solo visit. Her knowledge and experience were readily apparent and eased our concerns. Both cats have responded well under Andrea's care. We have found Andrea to be reliable, trustworthy, caring and attentive to our wants and needs. She willingly offers to fulfil basic household tasks during her drop-by visits: watering plants, bringing in mail and trash containers, tending to litter pans and the like. She excels in communicating before, during and after our extended travels away from home. We are confident that our pets are in good hands when in Andrea's care. Sheila and Bob Morris
Share This Profile
Find Pet Sitting in Washington, Illinois
More in Washington, Illinois