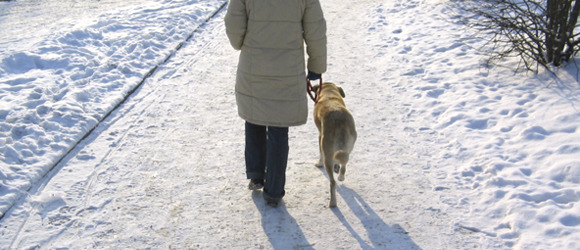 Winter Dog Walking Tips
January 1, 2016
The cold winter weather conditions can cause chapped paws and itchy, flaky skin, but there are other things we need to look out for too.  Road salt and other chemicals can stick to our friends paws and put them at risk for being poisoned if they were to lick them off.  There are many precautions we can take to look after our buddies.
1) - Towel dry your pet immediately after coming inside from the cold, paying extra attention to feet and toes can help prevent flaking skin that can become itchy.  Also, keeping the home humidified will help.
2) - Many pet owners will leave their dog's hair long in the winter, but did you know trimming it can minimize clinging of ice balls, salt crystals, and de-icing chemicals that can dry on the skin?
3) - Try not to bathe your pets during cold spells, as shampooing them too often can remove essential oils and increase chance of dry skin.
4) - Put a doggie-coat or sweater on to help them keep their body heat.
5) - Booties will help keep warm, as well as prevent harmful chemicals from getting on the bare paws.  They also prevent sand and salt from getting in between the toes and irritating the skin.
6) - You can massage petroleum jelly into the paw pads before going out in the cold, and this can protect from salt and chemicals as well.  You can also use it to moisturize after toweling off their paws to prevent or heal chapped, cracking skin.
7) - Brush regularly to get rid of dead hair and stimulate blood circulation.
8) - Extra energy is spent keeping warm in the winter, so your dogs should be drinking more water to stay hydrated and be given a little extra food.
If it's too cold for you, you can bet it's probably too cold for your pets too!  If they have to stay outside, be sure they have a covered place to stay that is dry and heated.
---
Need a Pet Sitter?
Need a Pet Sitter Job?
---
Related Articles
---