Nanny Share
Finding the right care provider can be hard for families. You want someone to love your pets and your babies the same way you do. With the cost of care rising, many parents are asking nowadays "What is Nanny Share?" Through this comprehensive guide, we'll walk you through what it means to share a nanny, how to find and pay for a nanny share, and how to maintain a nanny share relationship. By the end of this, you will know if nanny sharing is right for you and how to create a successful nanny...
Read More
Pet Sitters
Being a good pet sitter involves a lot more than just making sure the dog is fed and is let out to do their business. The dog you are watching is probably already stressed out enough without having its owner home. Playing with the dog will help them burn off the nervous energy. It will also give you a breather when they lay down for a nap!
Read More
Pet Sitters
While the odds of having an issue are slim when you care for someone's pet once in awhile, offering pet sitter services professionally is completely different, and you need to start thinking of your services from a professional standpoint.
Read More
Pet Sitter Hiring Guide
As much as pets are a part of your family, unfortunately, you can't take them everywhere. But, not to worry! Finding someone to watch your pets is easier than you think. However, when choosing a pet sitter for your furry friends, there are things you should keep in mind and a few questions you should ask yourself along the way.
Read More
Pet Sitters
Every dog is different. This is the beauty of dogs – each one has its own personality and unique quirks that make them so loveable. This is also what makes being a pet sitter more challenging than most people give it credit for. You never know what you are going to get until you actually meet a dog for the first time, and if the first time is during your first walk, you could be in for a surprise or two.
Read More
Pet Care
The internet has lots of different funny dog shaming videos of our furry loved ones getting into all kinds of mischief when their owners are not home. For us, this is hilarious and cute but for our dogs, this can be stressful. To help out we asked some our experienced pet sitters for their top suggestions to help keep dogs safe while they are home alone.
Read More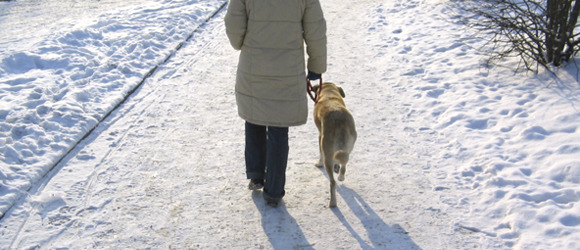 Pet Care
Hi Dog Walkers! Word on the street is it's too darn cold... and your pups think so too. Just like people, dogs tend to go through changes like dry skin and other discomforts in the winter time. We've collected some great tips to help you help your furry friends out.
Read More
Pet Care
The cold winter weather conditions can cause chapped paws and itchy, flaky skin, but there are other things we need to look out for too. Road salt and other chemicals can stick to our friends paws and put them at risk for being poisoned if they were to lick them off. There are many precautions we can take to look after our buddies.
Read More