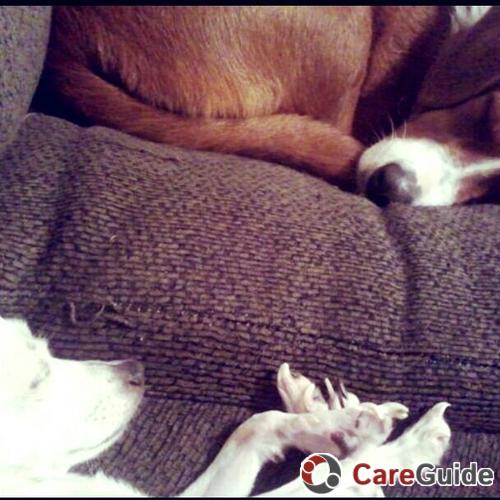 Pet Sitter Job in Spring
I will be moving to Spring in the first part of July and need a loving home to care for my puppies until I'm on my feet again. Compensation will be discussed when you call me. I'd like to be able to.come by regularly , 1-2 times per week to see and spend time with my dogs. I have a retriever/basset hound mix and a chihuahua. Both females, crate and house trained. Great temperaments. The chi is not spayed but the retriever is. both great with other animals. The chi barks very little and spends her day curled up in a blanket. The retriever loves to play especially with other kids and dogs, and will cuddle up with a cat in a heartbeat. I recently lost my job and am having to
move in
with my in-law's until I get another place and a new job. I'm looking for preferably a family but anyone to keep my dogs for two months. I will supply food and treats. they are not outside dogs! My retriever loves to play outside and will do so in a fenced yard for a few hours at a time. But both girls are inside people/family dogs and love to love and be loved. I'm willing to compensate fairly generously I just cannot afford a kennel. Thanks!
Pet Sitter Job Details
Email Address
…@….net

Confirmed

Phone Number

Confirmed

Service Required
Pet Sitting

More in Spring, Texas
Looking for pet sitting job?
Find dog walking jobs and other pet sitter jobs in your neighborhood!
×
Meighan Someone to keep 2 dogs, 2 months