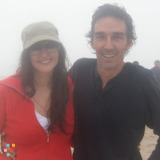 Roger Pena
Roger Pena
Dog Walker · Pet Sitter
Looking for Pet Owners in Southampton, NY.

Updated about 13 hours ago.
Last seen about 13 hours ago.
Pet Sitter in Southampton
Amy and I work both from home so we have plenty of time to take very good care of dogs, go for walks on the bay beach 5 minutes away. We fostered many dogs in the last 3 years so we have a good experience with any kind of dogs. Our dog Molly (a golden doodle aged 6) is great with any dog. We are very conveniently located for pick-ups and drop-offs 1 minute from County Road 39 very near the lobster inn. $60 for 24 hours - Call
718-450-...
Pet Sitter Details
Email Address

Confirmed

Phone Number
718-450-...

Confirmed

Zip Code
11968
Years of Experience
4
Provider Type
Individuals
Experience
Dogs

Services
Dog Walking
Pet Feeding
Pet Sitting
Boarding
Overnight Care

Hourly Rate
$50.00

Last Online
April 29, 2016 at 8:44 AM EDT


(about 13 hours ago)
Notes made here will only be seen by you. If you want to message the owner of this listing
More in Southampton, New York
Looking for pet sitting job?
Find dog walking jobs and other pet sitter jobs in your neighborhood!