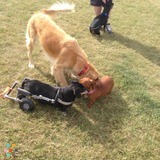 Pet Sitter in Winnipeg
Who?: Brook! What?: I would love to walk your dogs whenever you are unable to. I am very good with animals. I have three pets of my own. Recently I have been walking my dogs at kilcona dog park every second day and I was given the idea of taking other dogs there as well! Where?: I live in west St. Paul and I am willing to pick up your dog and drop them back off if you are in my area or north kildonan! I would prefer to take them to kilcona dog park where they will most definitely get all their energy out or any preference you have as well. When?: I am available Monday to Friday after 4:00 pm. (Except Thursdays) Sundays work for me as well. How Much?: I charge $10 an hour. ( very cheap because I'm doing it for my love for dogs!! ) Email or text me! For other dog lovers, I would just like to spread the information that during the summer months I travel to northern reservations to teach swimming lessons. I meet very cute but unwanted puppies. I fly them back to Winnipeg with me and I only charge the price to fly them ($30-$50). E-mail
if your interested. As I said I will probably be started this again in July. Thank you!
Pet Sitter Details
Email Address
Phone Number
204-292-...

Confirmed

Experience
Dogs

Services
Dog Walking

Hourly Rate
$10.00

Notes made here will only be seen by you. If you want to message the owner of this listing
More in Winnipeg, Manitoba
Looking for pet sitting job?
Find dog walking jobs and other pet sitter jobs in your neighborhood!
×
Brook Paige Dog walker! :)