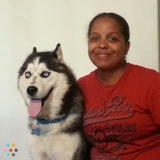 Desiree Roland
Balto's Pet Services
Dog Walker · Pet Sitter
Looking for Pet Owners in Menifee, CA.
Last seen over a week ago.
Pet Sitter in Menifee
I am honest, dependable and dedicated to keeping your pet healthy, happy andsafe on our walk together. I love dogs and have a Siberian Husky of my own. I am able to walk your dog mornings or evenings. Long term and short term care is available. Mon. - Fri. Rates:$10.00 Per. Hr. Per. Dog Early Morning (6am-9am) Late Morning (9am-12pm) Early Afternoon (12pm -3pm) Late Afternoon (3pm-6pm) Weekends are $15.00. Pet Sitter Rates $25.00 per night per dog I am able to be your sitter of your beloved pet after a meeting with my Husky goes well. Form of payment Accepted Check, Cash, Credit Card
Pet Sitter Details
Email Address

Confirmed

Phone Number
619-888-...

Confirmed

Zip Code
92563
Years of Experience
6
Provider Type
Individuals
Experience
Dogs
Cats
Fish

Services
Dog Walking
Pet Feeding
Pet Sitting
Pet Grooming
Boarding
Overnight Care

Hourly Rate
$10.00

Notes made here will only be seen by you. If you want to message the owner of this listing
More in Menifee, California
Looking for pet sitting job?
Find dog walking jobs and other pet sitter jobs in your neighborhood!
×
Desiree Roland Balto's Pet Services